Dawson Creek Exhibition & Stampede / GP Stompede
World Professional Chuckwagon Association Tarp Auction
Date: April 9, 2015
Location: Great Northern Casino - Grande Prairie, AB
5:30PM - Registration Reception
6:30PM - Auction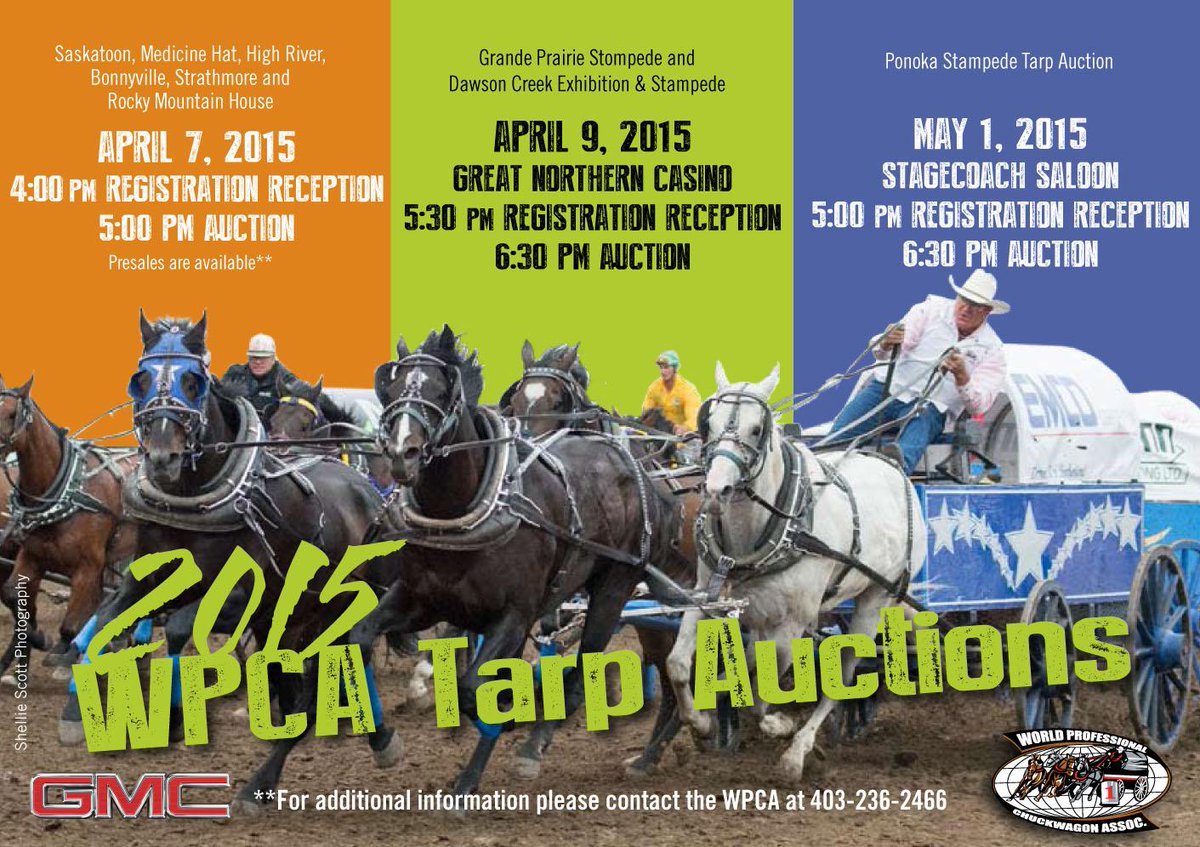 August 11, 2014
Well its over! Our volunteers and staff did not want the week to end. Was so much fun for our group and especially gratifying to see the happy smiles and compliments from young and old for the 2014 Greatest Show in the Peace. Weather was in our favor and quite a change from 2013 flood.
Rodeo had our largest entry to date just shy of 300 and a full slate of WPCA-WCA chuckwagons at 56. Entries were up in the Draft Horse division with the Hosting of BC Percheron Provincial Show and the Friske Supreme Challenge held for the first time in Western Canada. Cattle division hosted the BC Angus Gold Show and the largest number of entries in the Boehringer-DC Vet Finished Steer Classic. 14 Steers went to the Auction with the highest Steer selling for $3.20 a pound. The Rising Star talent contest had some of the best competition we have ever had with two going onto the 2015 P.N.E. Provincial Finals.
After some restructuring of our Licensed Security for the event we were awarded more numbers in the Waterin Hole. No major incidents so hopefully we can add to the numbers for 2015 and end the lineups!
Lots of good comments, on the new seating in the grandstand. Wagon/Race Fans, Dawson Creek Exhibition & Stampede, "THANK" the City of Dawson Creek Mayor & Council for providing the funding. We now will be working on some individual seats for 2015 and having all seats numbered.
2015 will have more changes all for the better. Plans are underway to start the event on Tuesday, August 4, 2015 with a Concert (top Canadian Country Artist) in the Rodeo Infield/Grandstand. 400 floor seats, 4800 in Grandstand, 6 Tent Suites, 2 Big Screens. Our Waterin Hole band will be the opener and the Waterin Hole will be open following the concert. Sponsors will have their "Kick off BBQ" in the Hosting tent (east side of the Grandstand) and complimentary tickets to the Concert. The tent only holds 350 people so book your sponsorships early!
Thank you to our Competitors, Sponsors, Staff, Volunteers and our Volunteer Board of Directors who make this event happen. "Greatest Show in the Peace" an event hosted in the beautiful City of Dawson Creek and ownership belongs to the Alberta/B.C. Peace River Country! A space where Agriculture, Forestry and the Oil Industry, meet to Compete, Showcase our Accomplishments and celebrate our Western Heritage.
See you down the trail in 2015 – Spring Breakup Pro Rodeo (Encana Event Centre), April 24 – 25, 2015, Greatest Show in the Peace (Fair Grounds), August 4-9, 2015.
DAWSON CREEK EXHIBITION & STAMPEDE
Connie Patterson President